Robert Vogt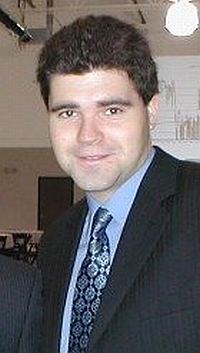 Biography -

Robert Vogt is the CEO and chief engineer of IOSiX, LLC, an automotive engineering company based in Ann Arbor, Michigan.

Robert was a crucial member of the University of Michigan Solar Car Team from 2002-2005. As Strategy Director, Robert was responsible for vehicle performance characterization and race speed optimization, and as Micros Director, he was responsible for all of the on-board vehicle controls, including array, battery, power conversion, and motor control and safety monitoring. The team won the 2005 North American Solar Challenge and placed 3rd in the 2005 World Solar Challenge.

In graduate school, Robert worked at the Toyota Technical Center, where he performed research into biomimetics and future vehicle safety systems, including construction of and experiments with robotic and vehicle testbeds and advanced sensors.

In 2005, Robert founded IOSiX, which focuses on producing miniaturized and cost-optimized solutions, including automotive and heavy truck data loggers, GPS loggers and trackers, and other aftermarket and OEM vehicle systems. IOSiX continues this trend with the recent release of its version 3.0 OBD-II and J1939/J1708 dataloggers with 802.11n Wifi, GPS, and cellular capabilities.

Robert is a contributing member of SAE and IEEE, and he continues to mentor the Solar Car Team. He holds a BSE in Computer Engineering, a BSE in Computer Science, and an MSE in Computer Engineering from the University of Michigan.