Tom Brizuela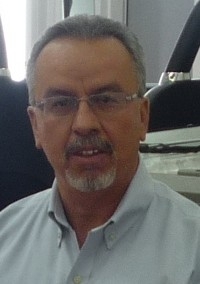 Biography -

Tom began working on cars at age 15, with the dream of someday working for a car manufacturer. He served in U.S. Marines as a diesel/automotive technician.

He graduated from National Technical College in Los Angeles with an AS degree in Automotive Diagnosis and Repair.

While auto body repair and customizing was only a hobby for many years, he began to get serious and decided to pursue that side of the business around 1978.

During the following years Tom worked at independent high-line and exotic auto body repair shops, restoration shops, and a Mercedes Benz dealership, and then in 1988 as head paint technician for BMW of North America, Inc. at their Vehicle Processing Center in Oxnard, California.

In 1990, he was promoted to the BMW Service Training Department and began developing BMW's Body & Paint Service Technician Education Program (STEP). From 1991 to 1995, he was responsible for STEP training at the BMW Montvale New Jersey facility.

In 1995, Tom accepted a Body and Paint training/curriculum development position with Toyota Motor Sales, USA, at their Los Angeles corporate headquarters. During this time, he was promoted to Body Service Group Supervisor where he became responsible for Toyota and Lexus body and paint training development, technician certification, and training facility management.

In 2000, his previous employer BMW, committed to build a new body and paint-training center in Oxnard, CA., to train entry-level technicians, and BMW dealer technicians. Tom saw this opportunity and returned to BMW as Body and Paint Technical Team Leader.

His current responsibilities are: Training Development, Insurance company technical presentations, Industry relations.

Tom has specialized training in the following:

McLaren composite repair and paint
Structural Repair Specialist for Roll Royce Motor Cars
Aluminum Structural Repair Specialist for BMW Z8
Certified ASE Master Collision/ Refinish Technician
Certified in Glasurit, Standox, and BMW Group waterborne paint systems
I-Car trained and certified
Celette, Caroliner, and Car Bench Certified
BMW AG trained 1990-2012
His hobbies: auto body restoration on pre-1960 vehicles, custom painting, fishing, music, and learning, and helping people learn.